Paris Air Show 2015 – Airbus and Boeing with High Soaring Sales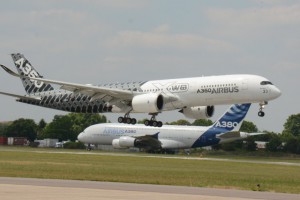 By Rudolf (Rolf) Doerpinghaus
Le Bourget: With non less than 934 commercial airliners sold by Airbus, Boeing, ATR and Embraer, this year's Paris Air Show has exceeded all expectations one more again. The combined value of all commercial aircraft sales and commitments is adding up to US$ 130 billion, demonstrating the strong intention of the international air transport industry to invest in state-of-the-art equipment despite reduced oil prices.
Signing orders and commitments for 421 aircraft worth US$ 57 billion, Airbus made again breaking news at this year's Paris Air Show (June 15 – 21). While the fast selling A320neo was not yet ready for display, Airbus was concentrating on the its wide body portfolio, especially the A350XBW and the A380. Both aircraft were shown in flight.
Selling 331 jets valued US$ 50 billion, Boeing is also facing the need to ramp-up the production. Boeing has shown the 787-9 for the first time at the Paris Air Show, presently the largest version of the Dreamliner.
For Bombardier Paris was the first opportunity to demonstrate the all new CSeries to an international audience, claiming that the new airliner will show a significant lower fuel burn.
Antonov brought the prototype its new An-178 Cargo Jet to the show. Also Dassault's Falcon 8X made its air show debut. The 'green' 6,450 nm fly-by-wire trijet reduces the fuel consumption up to 30 %.
One of the most discussed aircraft in Paris exists so far only as a long term project. Its name: MOM, an acronym for an all new 'middle-of-the-market' family of aircraft projected by Boeing, which may replace larger 737-versions and succeed the 757 or even the 767 after 2020. Using latest airframe and engine technologies, MOM could bring a further step forward to reduce emissions and increase the efficiency of air transport.
Demonstrating the buying power of Gulf airlines, Qatar Airways made history presenting non less than five aircraft at the Paris Air Show: A380, A350XWB, A319, A320 and the Boeing 787 were shown in the colors of the national carrier of Qatar. In addition Qatar Airways announced in Paris a firm order for ten 777-8X and four 777 freighters with a total value of US$ 4.8 billion.
Besides the stunning list of multi-billion-dollar-sales announced by the leading OEMs, crowded aisles and lively activities throughout the halls filled with suppliers from around the world were determining the picture of the show. With more than 320 exhibitors the US aerospace industry was once more by far the largest international exhibitor.
But there were also some familiar names missing, mostly from the military sector such as BAE Systems, Northrop Grumman and Saab. Others like Eurofighter and the Italian Finmeccanica reduced their presence significantly.
The Paris Air Show is organized by the SIAE, a subsidiary of the French Aerospace Industries Association (GIFAS). The 52nd edition of the Paris Air Show will be held June 19-25, 2017.
Paris Air Show 2015: Facts & Figures
Exhibitors
2,303 (+4%)
Exhibiting countries
48 (44 in 2013)
Trade visitors
151,000 (+8.6%)
General public
200,000 (+13.6%)
Visitors, total
351,000 (+11.4%)
Aircraft on Display
130 (-13%)
National Pavilions
26
Chalets
330
Official Delegations
147
Accredited Journalist and Media Representatives
4,359