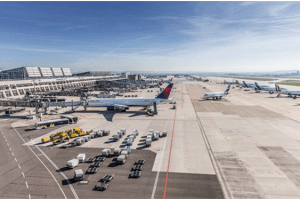 Ground fleet vehicles fuelled by 'Neste MY Renewable Diesel' will improve carbon footprint
Stuttgart, September 21, 2017: Stuttgart Airport has started using Neste MY Renewable Diesel™ as a solution to reduce its CO2 emissions and as part of the climate program of Baden-Württemberg's state airport in Germany. By switching to premium-quality "drop-in" renewable diesel in its diesel-powered ground fleet, the airport is able to significantly reduce its carbon footprint. All the ground fleet vehicles which are not electrified, such as the trucks of the airport fire department and winter service equipment, will be using Neste MY Renewable Diesel.
Using Neste MY Renewable Diesel, produced from renewable raw materials, can cut greenhouse gas emissions by up to 90% over the lifecycle of the product compared to conventional fossil diesel. Its use can additionally reduce levels of local emissions that have a negative impact on air quality. The fuel outperforms both conventional biodiesel (Fatty Acid Methyl Ester i.e. FAME) and even conventional fossil diesel in terms of engine performance and environmental impact.
"The state airport is the first transportation company in Baden-Württemberg that extensively fuels its vehicle fleet with renewable diesel. The climate-friendly fuel adds to the targeted support of e-mobility and alternative drives on the ground and in the air. This is another important step for climate and health protection", says Winfried Hermann, Minister of Transport of Baden-Württemberg and Board Chairman of Flughafen Stuttgart GmbH.
Neste MY Renewable Diesel is supplied locally with the brand name C.A.R.E. Diesel® by Neste's distribution partner Tool Fuel Service GmbH, a company specialized in the distribution of renewable fuel in Germany.
"Our goal of running the entire airport climate-neutrally by 2050 is a very ambitious task. The use of C.A.R.E. Diesel complements our previous efforts for climate protection and our apron staff benefits from it as well", says Walter Schoefer, Management Director of Flughafen Stuttgart GmbH.
Source: Neste