Press Release 23rd October 2019
World's first high voltage charger designed for light aircraft delivered from Australian company Electro.Aero to US company Ampaire
Electro.Aero is pleased to announce that Los Angeles-based electric aircraft company Ampaire is the launch customer for our new RAPID Charger 30kW aircraft charging system. This system is the world's first high voltage charger specifically designed for aviation use, to charge batteries up to 1 kV.
Electro.Aero Charger RAPID 30 is a compact and portable charger for electric light aviation. Setting the benchmark for the new SAE International AS6968 standard for electric aircraft charging, the RAPID 30 can deliver a full 30 kW of power over a wide DC output voltage, from 300 V to 1 kV.
Ampaire Co-Founder and CTO Cory Combs has stated that "the Electro.Aero Charger RAPID will prove to be an invaluable asset for Ampaire's flight demonstration efforts around the globe."
Electro.Aero is also collaborating with Ampaire and other key industry players on worldwide charger standardization efforts via the SAE AE-7D Aircraft Energy Storage and Charging Committee. This work is culminating in the development of the AS6968 SAE Standard for Conductive Charging of Electric Aircraft.
Electro.Aero Co-Founder and CTO Joshua Portlock is "pleased to be supporting Ampaire with their electric propulsion technology and excited about the opportunity to support this emerging industry."
Electro.Aero is committed to becoming the world leader in electric propulsion for light aviation with a rapid time-to-market for its unique technology. Electro.Aero has developed the L.E.A.P.TM integrated electric propulsion system, suitable for light aviation use. This revolutionary suite of technology includes the Charger RAPID, enabling cost-effective electric propulsion for a new generation of light aircraft.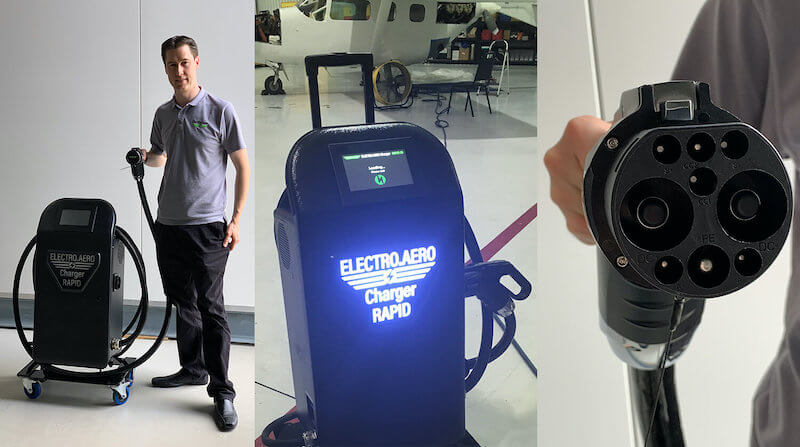 Ampaire is leading the charge in aircraft electrification. The Los Angeles based company is on a mission to be the world's most trusted developer of practical and compelling electric aircraft. To start, Ampaire is retrofitting existing passenger aircraft to electric. It's the leanest, fastest, most capital-efficient approach to making commercial electric air travel a reality. Ampaire's vision is to make flights more accessible to more people from more airports by providing electric aircraft that are safe, clean, quiet, and less costly to operate.