NASA: Prototype Air Traffic Tool Ready for Airborne Workout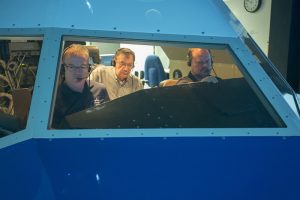 New sustainable 'Flight Deck Interval Management' system to save fuel, flight time and money
Seattle, February 2, 2017: In a series of flights called Air Traffic Management Technology Demonstration-1  (ATD-1), NASA's Aeronautics Research Mission Directorate is testing airborne flight deck interval management software with the help of the Federal Aviation Administration (FAA) and leading aviation partners.
The month-long campaign involves three planes: a Boeing 757 and a business jet – either a Dassault Falcon 900 or an Embraer 170 – supplied by Honeywell, and a Boeing 737 provided by United Airlines. The aircraft are based at King County International and Seattle-Tacoma International Airports in Seattle, but the flight test will take place about 120 miles east, over Grant County International Airport.
After years of research and laboratory work, a full airborne demonstration of new technology and procedures aimed at improving air traffic flow into busy airports is on schedule to take off this month over Washington State.
The system is called Flight Deck Interval Management, or FIM, and its key benefit is that it will help air traffic controllers and pilots more precisely manage and safely shorten the time, or interval, between airplanes landing on a runway.
"All the pilots that are going to be flying the FIM operations have gone through the training modules and simulations. The equipment is all set and we're ready to go," said Sheri Brown, ATD-1 project manager at NASA's Langley Research Center in Virginia.
The research is intended to help airplanes spend less time in the air, save money on fuel, and reduce engine emissions – all the while improving schedule efficiency to help passengers arrive at their destination on time and avoid missing connecting flights.
FIM is the final piece of a suite of aircraft arrival technology developed under the ATD-1-program. Two other NASA-developed technologies from ATD-1 – Traffic Management Advisor with Terminal Metering and Controller Managed Spacing – together were already  delivered to the FAA in 2014 as a single tool known as Terminal Sequencing and Spacing (TSAS).
Information provided to air traffic controllers from TSAS will be combined with NASA-developed software that is at the heart of FIM. The result is guidance that directs pilots to fly at a certain speed and maintain a more precise spacing with an aircraft flying ahead of them all the way down to the runway.
"It's a very simple 'follow the leader' operation that is easy to execute by the flight crew," Sheri Brown said. During the course of the flight tests, researchers hope to complete some 80 runs involving three major flight scenarios:
flying at a cruise altitude of 35,000 feet,
descending from cruise altitude all the way down to the airport, and
making a final approach beginning about 15 minutes before touchdown.
The plan is to fly about five-and-a-half hours each weekday, testing up to five test scenarios during each daily sortie. The Honeywell 757 and United 737 will be equipped with the FIM system in its cockpits, where its pilots will "follow the leader" during test runs behind the Honeywell business jet, which will provide its speed and position information to the other aircraft.
If all goes well with the demonstration, the entire FIM system – including software and hardware – will be turned over to the FAA by the fall of 2017, where the FAA will continue to evaluate and test it before making a decision to certify its use.
Source: NASA Aeronautics Research Mission Directorate / Jim Banke, Lillian Gipson