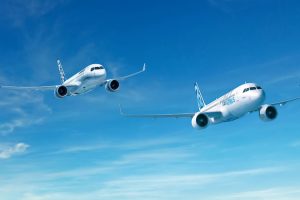 Combined potential within the 100-150 seat market of more than 6,000 new aircraft over the next 20 years
Amsterdam / Montreal, October 16, 2017: Airbus SE and Bombardier Inc. are to become partners on the C Series aircraft program. A corresponding agreement was signed today.  The agreement brings together Airbus' global reach and scale with Bombardier's newest, state-of-the-art jet aircraft family, positioning both partners to fully unlock the value of the C Series platform and create significant new value for customers, suppliers, employees and shareholders.
Under the agreement, Airbus will provide procurement, sales and marketing, and customer support expertise to the C Series Aircraft Limited Partnership (CSALP), the entity that manufactures and sells the C Series. At closing, Airbus will acquire a 50.01% interest in CSALP. Bombardier and Investissement Québec (IQ) will own approximately 31% and 19% respectively.
CSALP's headquarters and primary assembly line and related functions will remain in Québec, with the support of Airbus' global reach and scale. Airbus' global industrial footprint will expand with the Final Assembly Line in Canada and additional C Series production at Airbus' manufacturing site in Alabama, U.S. This strengthening of the program and global cooperation will have positive effects on Québec and Canadian aerospace operations.
The single aisle market is a key growth driver, representing 70% of the expected global future demand for aircraft. Ranging from 100 to 150 seats, the C Series is highly complementary to Airbus' existing single aisle aircraft portfolio, which focuses on the higher end of the single-aisle business (150-240 seats). The world class sales, marketing and support networks that Airbus brings into the venture are expected to strengthen and accelerate the C Series' commercial momentum.  Additionally, Airbus' supply chain expertise is expected to generate significant C Series production cost savings.
"This is a win-win for everybody! The C Series, with its state-of-the-art design and great economics, is a great fit with our existing single-aisle aircraft family and rapidly extends our product offering into a fast growing market sector. I have no doubt that our partnership with Bombardier will boost sales and the value of this program tremendously," said Airbus Chief Executive Officer Tom Enders. "Not only will this partnership secure the C Series and its industrial operations in Canada, the U.K. and China, but we also bring new jobs to the U.S. Airbus will benefit from strengthening its product portfolio in the high-volume single-aisle market, offering superior value to our airline customers worldwide."
Source: Airbus